Near the end of summer, Ljubljana became covered in billboards with the local cable sports channel which holds the broadcasting rights for the Italian football league "Serie A", informing passers-by that their channel would exclusively be broadcasting the matches of this Italian league, starting from August 18th. To illustrate this information, the black background of the billboards had a white football jersey drawn on it, bearing the number 7 and the name Ronaldo above it. And that was it. And everything was clear.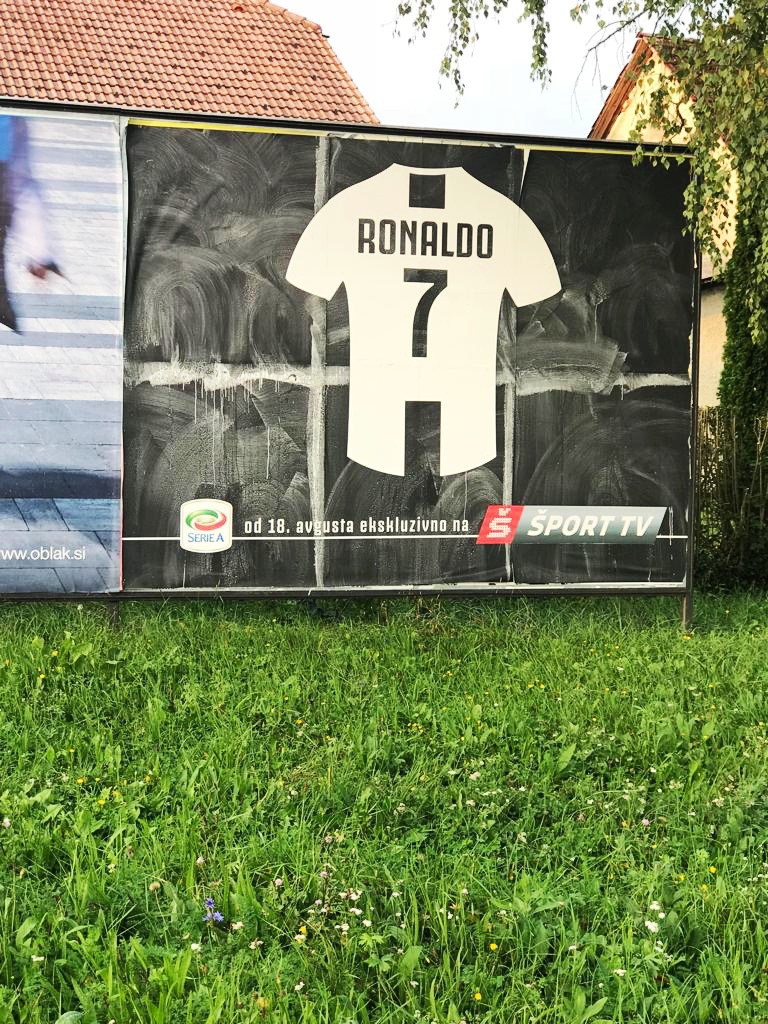 This billboard campaign in Slovenia merely serves as proof that Cristiano Ronaldo's transfer from Madrid's Real to Torino's Juventus changed what the Italian Serie A had been until then, for good. Sure, Ronaldo is one of the best players of our time and definitely one of the most famous figures in the entire world of celebrities, but to have this one transfer, albeit of such a star, change the whole perception of an entire football league with 20 clubs, overnight, and what's more, a league boasting a long and rich tradition, is a bit overkill.
In the past, top athletes were stars outside the boundaries of their respective sports; they became rich and famous, but never like this, it seems. The main reason for this is technological development. First, satellite television technology made football a global phenomenon. The reason why this happened only with football, and not even close with any other sport, lies in the fact that football was already the most popular sport in a large number of countries, and when some of the best national leagues became much more accessible to a much greater number of viewers via satellite and cable television outside their national markets, this popularity quickly spread outside national borders.
The concentration of the auditorium also led to the concentration of capital, and big money started changing hands in an ever-declining number of markets. Today, we already live in a time when the English Premier League, the Spanish La Liga, and the German Bundesliga dominate the global football business. In France, they're trying to bring their France Ligue 1 closer to this exclusive club, while the Italian Serie A is struggling to regain its old glory, with Ronaldo's transfer certainly being a step in that direction.
But the technological innovation crucial to this story is the emergence and development of a mobile computer, still known as the "mobile phone" among people, which has enabled us to become media distribution channels for exchanging various media content. Today, any of us can be one, just like Ronaldo. Both we and he have equal access to Facebook, Instagram, Twitter, etc. In fact, we've all become media, just like Ronaldo.
However, most of us are not Ronaldo. Let's look at the power of the Ronaldo medium. He has 110 million followers on Facebook, 130 million on Instagram, and over 40 million on Twitter. Not to nitpick or anything, but that's almost 300 million in total. And even if this number is not quite accurate, by the time I finish writing this text, and you finish reading it, it'll have reached more than 300 million.
Any medium with an audience of 300 million is attention-worthy. In any case – it's interesting from the advertising angle. For example, if you want to post a photo on Ronaldo's Instagram account and you have $750,000 to spare, go ahead. And if you're actually considering it, you'd better hurry, because with every few dozen thousands of new followers, you'll need several new thousands of dollars to do it. Ronaldo knows it, so he's already begun rebranding himself and already has his own personal brand with the accompanying CR7 logo. He's gonna need it more and more.
Come to think of it, Ronaldo's transfer to Juventus is essentially more of a business arrangement, a merger of two media companies, than a football transfer. The initial results merely serve to confirm this. The prices for broadcasting rights for the Italian Serie A league rose in next to no time, and only a month after this deal came to light, US sports channel ESPN signed a contract for the rights for the US market. Next, Juventus' YouTube channel had over 36 million views in July, almost twice as much as it did in the first six months in total. Add this to the fact that 550 thousand black and white jerseys with the number 7 on the back were sold in the same period, while, just for comparison's sake, 850 thousand jerseys of all of Juventus' football players of were sold over the course of the previous football season.
It'll be interesting to follow how this Juventus-Ronaldo media deal will unfold in the future. Will Cristiano Ronaldo make a new media arrangement of this kind in a few years' time? If this happens, maybe the billboard in Ljubljana will only have a jersey with the number 7 next time, without a name above it, because it will be completely clear what it means, even without the number. Or maybe he'll buy the rights to use the number 7 in general, so any of us who want to press '7' on any keyboard or any digital screen anytime, anywherewill have to pay a small commission to Ronaldo. Think I'm exaggerating? Think again.